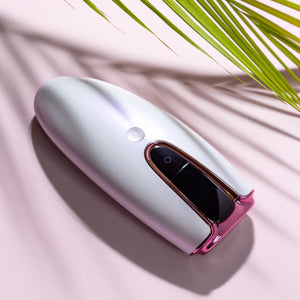 2 in 1: Hair Removal + Skin Rejuvenation
Bella Tech IPL is a device for treating your skin from the comfort of your home. Our product not only removes unwanted hair from your face and body, but it can also be used to rejuvenate your skin, giving it a smoother sensation and a luminous effect.

How does the Bella Tech IPL technology work on your body?
On your hairs, the magic happens on their roots. Gentle pulses of light in contact with the skin are absorbed by the hair root, causing the hair follicles to shed naturally. The result? Your skin feeling silky and smooth.
For skin rejuvenation and wrinkle reduction, the continuous treatment of the high-intensity pulses promote the production of collagen and regeneration of your elastic fibers. And that's not all: the photo-termal effect of our product also improves blood vessel function, helping nourish skin cells and keeping them always healthy.
Digital Display Feature 
The Bella Tech IPL has an elegant and smart design. The digital display makes it much easier to switch the intensity of the light to adapt to your skin and hair color. All of this for your safety and comfort.
Body Hair Permanently & Painlessly Removed
One of the best parts: unlike other methods, Bella Tech IPL promotes a permanent and painless removal of body hair. With only 3 weeks of treatment, it is possible to notice the results.
90 Day Money-Back Guarantee
We want you to have the best experience possible. That's why we offer a 90-day money-back guarantee to make sure you'll be happy with your purchase.
Please contact our customer service if you experience any issues; we'll be glad to support you.